What sets our products apart ? Their safety, compliance, ease of use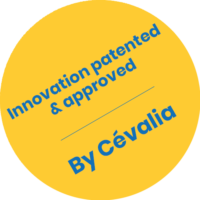 LINERBENNE bag containers have 2 overlapping liners for maximum safety.
● A perfectly sealed internal liner
Made of polyethylene, a non-permeable material, it has flaps covering the slides to prevent leaks. This process prevents the smallest and most dangerous asbestos particles from escaping through mini orifices.
● An ultra-resistant outer liner
It is made of woven polypropylene, known for its resistance.
Reinforcements in the most stressed areas avoid snags and tears during handling.
Products tested and approved by official and independent bodies :
● The CEVALIA Commission, Commission for the Evaluation of Technical Innovations in the field of detection and treatment of Asbestos in buildings.
● The Cefea : French Accredited Packaging Facility / Centre Français de l'Emballage Agréé
● All-in-one products
They do not require any additions to ensure their safety.
● User-centered design
Container bags focus on the ergonomic and practical aspects based on daily use. For example, some models designed for a skip include a system that keeps the container bag open during filling. Similarly, the design of the liners allows for easy and quick closing.
CONTAINER BAGS
Flexible, watertight and shock-resistant, they are available in different versions.
 Models for Ampliroll dump trucks :
LB7 Series – 7-Ton Average Payload
LB10 Series – 10-Ton AveragePayload
LB12 Series – 12-Ton Average Payload

Models for 8X4 trucks
LB16 Series – 16-Ton Average Payload

Models for Semi dump trucks

LB30 Series – 28 or 30 -Ton Average Payload (see technical note)
LANDFILL LINERS FOR FIBER CEMENT
They are manufactured using the same technique as bag containers.
Models for sheets of several dimensions
Focus on our flagship product : the LB7
for damaged buildings or buildings under construction 
HANDY DOUBLE CONTAINER BAG
Design adapted to ampliroll dump trucks
Flexible container of 620 x 230 x 125 cm, with elastic tensioner for easy installation and holding in place.
This "all-in-one" consists of 2 container bags. It does not require any additional packaging.
Fast and efficient closing
It closes easily with a zipper.
The LB7 saves time on construction sites thanks to its easy operation.
Mandatory measure since 1st July 2019
LINERBENNE markets, in addition to its own line of products, ultra-resistant container bags made under its supervision. They provide a second liner for already protected waste.
CONTAINER BAGS FOR WORK SITES WITH BULK ASBESTOS WASTE
1m3 IBC – 1 Ton Average Payload
1m3 IBC – 2 Ton Average Payload
ASBESTOS BAGS FOR WASTE DUMP INDIVIDUAL CUSTOMERS
Model FiberLiner for "intact" asbestos (unaltered)
— Each customer is assigned a dedicated product specialist.
– He or she receives advice and support tailored to his or her needs in order to make the best use of its products.
– The company considers specific requests. If necessary, it can customize products or modify existing ones, guaranteeing their quality.
– Thanks to its professional network, it can refer, if necessary, towards complementary service providers: transporters, specialized distributors, etc.…
– Products are delivered within the announced timescale.
For my building sites, i use the Linerbenne container bags. They are of high quality, easy to use and very resilient. Their double liner guarantees an excellent watertightness, which allows us to comply with current regulations. I also appreciate the sales people who are responsive and professionnal. As for the research and development department, it knows how to adapt to find new solutions or to make existing ones evolve.

Steeve FOIREST
Asbestos Operations Manager at COLAS